December 15, 2016 | 22:54 | Written by: snake911

When looking back at the archives of home computing technology, there seems to be a synonymous connection between screensavers and the 1990s.  The reasoning behind this might be due to the fact that that was the decade where non hobbyists were starting to purchase computers for their homes and with it a large amount of customization.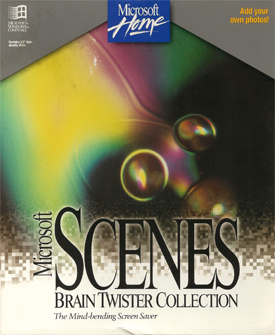 Starting with Windows 95, there was full functionality built into the OS for things like custom wallpaper for the desktop and screensavers when the PC was in idle use.  Sure, you could have had patterned wallpaper and a screensaver for Windows 3.1, but they were features that were lacking in options and not fully fleshed out until 95 rolled out when it began to feel complete; so much so that the windows form for these features looked nearly the same for many versions of the Windows OS following 95.
This may be obvious, but just in case you didn't know, a screensaver is a program that displays animation or a series of images on a computer monitor after a preset amount of inactivity has passed to prevent burn-in from occurring to a screen.  For today's LCD screens it's not that big of deal but back in the '80s and '90s when CRT monitors were still relevant, a static image was prone to burning itself onto the screen, creating a permanent ghost image on the display.
As part of the Microsoft Home line of software, the Scenes series of programs added a full range of customizable options for both screensavers and wallpapers.  For a selection of flavors to choose from, there were a number of different subjects you can purchase such as the Undersea Collection, showcasing fish and plant life in the oceans; Hollywood Collection, which includes photos of famous celebrities and actors; and Sierra Club Collection of photos from the organization's archives.  For this feature, the Brain Twister Collection was selected as the subject matter.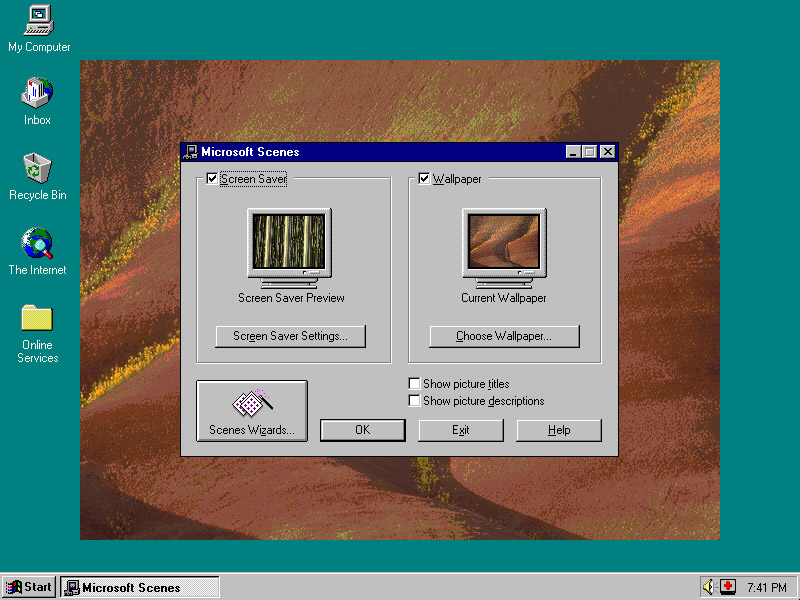 Of all the programs from Microsoft Home that we've explored thus far, this one has to be the absolutely most basic one of them all.  In fact, it's more like an add-on function to the operating system as the interface is as vanilla Windows as you can get.  After installing the software and launching it, you can see its interface is split in half down the middle where the screensaver options are on the left and the wallpaper options are on the right.
With wallpapers, you have around 40 images to pick from where all are filed under the category titled Brain Twister.  For this series of images, Brain Twister deals with funky looking, somewhat abstract photos that may cause you to say "what the heck am I looking at?"  For a better explanation, here's the official description written on the back of the box:
Using images drawn from the world around us, you'll be visually challenged by images as diverse as three-dimensional stereograms and other synthetic object to those from the natural world.  Perspectives blast you 500 miles up into space or zoom you in microscopically close with magnification of 7000 power.  It's as fascinating as it is fun to puzzle these pictures out.
Each image also has an option to have a small window display with the description of the image so you know what you're looking at.
For the screensaver, it basically incorporates all of the images used for wallpaper, but places them into a slideshow.  Options allow you to set the duration time for each image and the kinds of transitions between each slide.  Again, all simplistic and but very intuitive to use.
Probably the handiest tool of Microsoft Scenes is the ability to allow for the user to enter a password after the screensaver starts, which allows for a bit of security for the OS.  If I'm remembering this correctly, adding a password or locking the OS didn't come standard to the OS until Windows 2000 or XP, leaving all 9X series of Windows vulnerable for unauthorized access.
For a personal touch, Scenes allows you to create your own collection of images for use as screensavers.  The problem with this is pretty much one had a digital camera or a scanner for their computer back in 1994.  So to make it easier for home users to get their precious family photos for use with Scenes, Microsoft created a division to digitize photos to digital pics that they mailed back to you -- just mail them your prints, negatives, or rolls of film and they will send a disc back.  Of course, coming with a cost for the service, but it was a niche market, so they probably made some good coin on it until digital cameras began to rise in popularity.

By the way, if you made it this far on an article about how to use desktop wallpapers and screensavers for your PC, then you deserve a round of applause.

Permalink - Category: blog - Tag: mshome

Comment