August 1, 2014 | 20:54 | Written by: snake911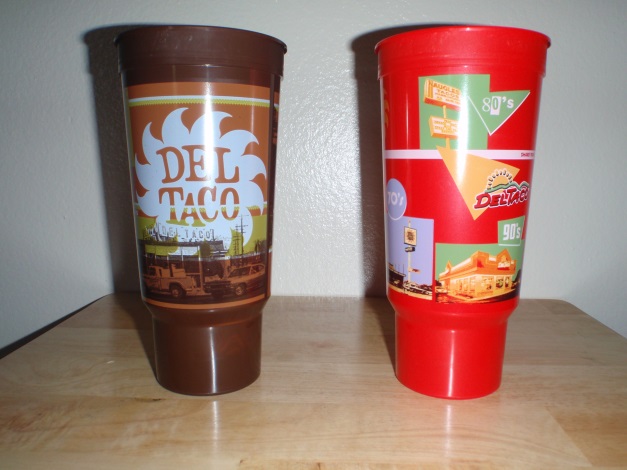 Fast food chain Del Taco is currently celebrating their 50th anniversary. If you've never been, they serve American style Mexican meals like tacos, burritos, and such. In relation it has a two section menu that is split into a "Mexican kitchen" and an "American kitchen," so you can order burgers and fries there as well. I love this place. In terms of fast food, Del Taco and Jack in the Box are my favorite places to hit up when I need a quick meal. To celebrate, they have limited edition commemorative cups that show off their history. With a total of 4 I currently have two of them.
In addition to the cups, their web store has shirts that sport their older logos. This is perfect timing for me as my wardrobe is starting to look tattered and drab, so I purchased their Naugles shirt to kickstart a new set of t shirts. To settle the confusion, Naugles was a fast food joint in the '70s and '80s that was very similar to Del Taco (a guy named Naugle used to work at Del Taco before he started his own place). Del Taco would eventually buy the chain in the late '80s, so they aren't around anymore, but my dad loved going to Naugles and I remember going there along with him. Good times.
Permalink - Category: food

Comment