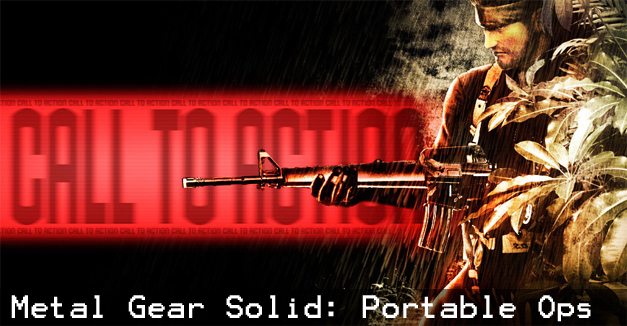 Metal Gear Solid: Portable Ops

Developer: Kojima Productions
Publisher: Konami
N.A. Release: December 5, 2006

Box Quote: "Stealth action redefined."
At one point it may have seemed impossible to shoehorn an official canonical story for the Metal Gear Solid series into a compact form such as a portable game; which also would include the same stealth gameplay from the main games. This may have been the reason why the first Metal Gear Solid game for the PSP was in the form of a card battle game. A year or so later in 2006, and after another one of those card battle games, Kojima Productions would have enough experience of making portable games to make the impossible possible when they released Metal Gear Solid: Portable Ops for the PSP. With it, you get the similar gameplay experience with stealth action and a large convoluted story you'd get from one of its home console counterparts.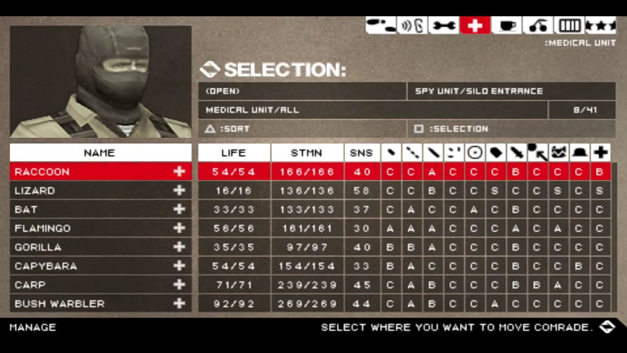 Though it wouldn't be fun to have a carbon copy experience of playing a full blown console game on a handheld console. They instead did the right thing by having bite-sized missions where most of them could take, around say, 15 minutes or so to accomplish. This fits well into the portable experience of playing a quick game while riding the bus or during a lunch break.
One of the main elements of the game is to gain the trust of enemy soldiers and get them to join your side so you can build an army needed to accomplish your missions. Yeah, this time Snake can't do it alone; which is obvious during the first few missions (stamina can go so far with only one person). Each soldier will have different skills and experience which you can assign with various jobs such as engineers that design weapons and equipment, or medical experts to heal soldiers quicker or to generate items such as medical supplies and rations.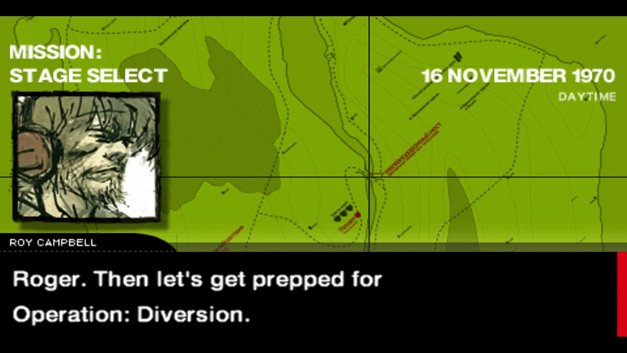 In addition to producing an army, Portable Ops includes an on-line feature that allows you to recruit more soldiers. With it, you can use wireless access points or use the GPS feature to connect with other PSP devices and either trade soldiers or compete in deathmatch or CTF style games to win soldiers. The whole on-line feature is not mandatory, but adds a higher value to the army you've slowly built up during the single player campaign.
Creator of the series, Hideo Kojima, takes a back seat as he is only a Producer for PO. While he did come up with the original story, it was written and directed by others on his staff. Taking place a few years after the events from Metal Gear Solid 3, Portable Ops once again stars Naked Snake during the times of the Cold War. As always, you will need to stop a nuclear equip walking battle tank called a "Metal Gear" from causing Armageddon. The story is a fine fit for the series and helps fill in gaps of historical events related to FOXHOUND and the Patriots. The cutscenes were unique as they didn't use in-game rendering as they usually do to forward the story. Instead, they hired the talents of Ashely Wood (the artist for the Metal Gear Solid comic) to create the clips in the style of a digital comic.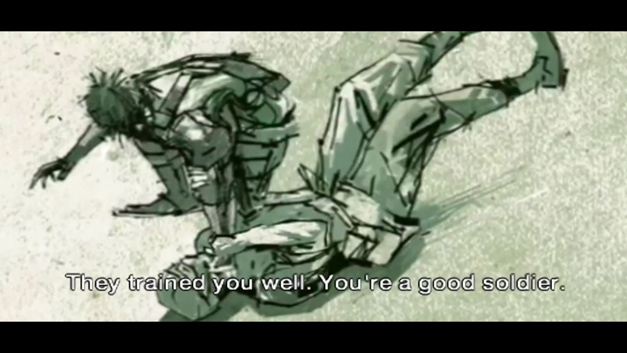 It is impressive, though, how they were able to compress the full stealth gameplay the series is known for into a portable console like the PSP. Sure, they did it back for the Gameboy Color with Metal Gear: Ghost Babel, but that was more in the style from the original Metal Gear series from the MSX era. I'm referring to the Solid series for the PlayStation generation of consoles. The environments are rendered in full polygonal 3D, have the color styles of MGS 3, and look really impressive from a distance. But when you get up close to an object like a truck, the textures and geometric curvatures start to look blocky.
While Portable Ops is not entirely necessary to play in order to understand the story for games post MGS3, it does certainly help in supplementing the overall mainline story. It would also lay the foundation for the other MGS game that follows in the same vein of gameplay and story, Metal Gear Solid: Peace Walker.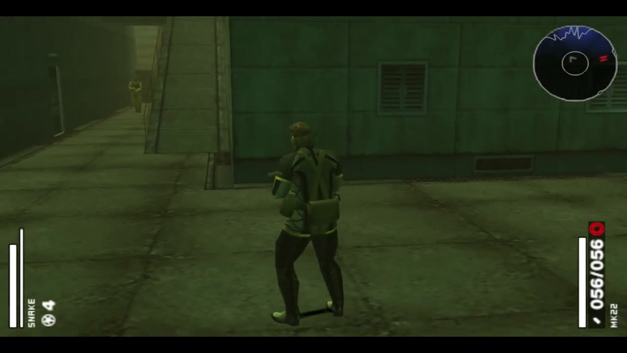 ---
Posted on: April 23, 2015