April 20, 2016 | 22:26 | Written by: snake911

A tradition lasting for about a year straight, I would always make a lunch that was so tasty, so good, but eventually had to stop due to some problems. I present to you: homemade french fries and meatballs.
Well, the image above just shows the french fries, but that's the only thing I have to prepare for the meal as the meatballs -- being turkey meatballs -- are the type you find in the frozen aisle of a supermarket and only need to microwave them when you're ready to eat.
I found the recipe for the french fries years ago on YouTube, but I can't for the life of me find the original video. Maybe she took it down? Anyways, it's delicious and takes a minimal amount of effort to make them. I start off with a raw butt potato, and the end results are the tasty fries you see in the image above. As you can see, I'm still getting used to this oven as it appears to work way better than the oven at the previous place where I lived as that one took forever to cook with. The special ingredient for these fries are adding a good helping of Lawry's seasoning salt, which give the fries a mild kick and masks the starch taste of what potatoes have.
I had to stop making this meal because we were constantly buying those frozen pizzas at Costco where no pan is needed: just slap the pie on the oven rack and you're good to go. The problem was that the oven was never cleaned when we were done. Meaning, the next time we (I) would use it, all of the cheese and meats that fell off the pizza would burn and create enough smoke to where it was always setting off the smoke alarms, and once that happened it was difficult to get the smoke out, so I was always waving off the smoke away from the detectors during cooking and for a while post cooking.
But now that this oven is sparkling clean, I can start making this meal again. Here are the end results: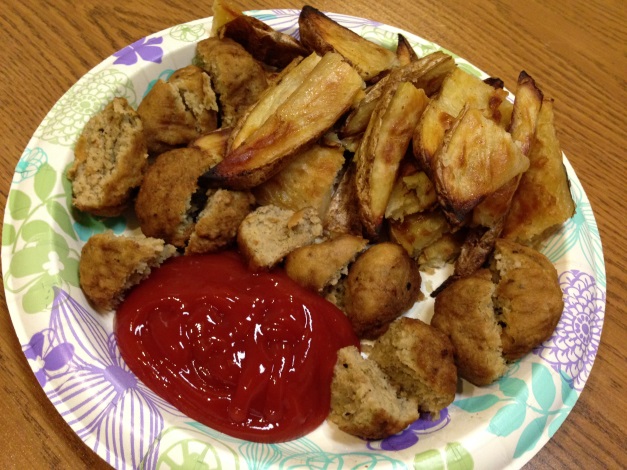 Yummers! I love dunking the meatballs and fries into ketchup. It's the best ingredient for items like these as it brings in sweetness to these salty tasting dishes. I'm not going to say this is a healthy meal, per say, but one that is a healthier alternative as the meatballs are turkey as opposed to traditional ground beef, and the french fries are baked in the oven as opposed to being deep fried.

I'm planning to keep this as a weekly tradition for lunch for the foreseeable future, so whenever it's Wednesday, know that I'll be chowing down on this wonderful little slice of heaven.

Permalink - Category: food

Comment